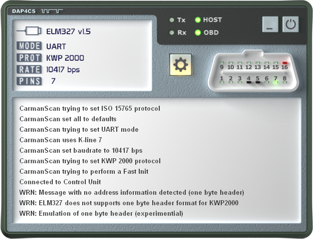 DAP4CS software allow you to use inexpensive diagnostic adapters with CarmanScan Auto-i application. The current version of DAP4CS supports K+CAN Commander 1.4 and ELM327 adapters.
Most widely implemented protocols are supported, such as ISO 15765, KWP 2000 and ISO 9141. Legacy OEM protocols, such as Mitsubishi MMC SCI, Subaru SSM-1, Nissan Consult-1 are also supported by this software using protocol-specific adapters based on FT232 chip.
You may use CarmanScan Auto-i & DAP4CS for reading/erasing diagnostic trouble codes, reading parameters and information from Control Units. The use of CarmanScan Auto-i & DAP4CS for other procedures, such as adaptation, calibration, actuators test, injector coding, reprogramming and so forth, is allowed only if you have experience, knowledge and reference manuals for the procedures that you intend to perform.
Please read DAP4CS installation notes.
You can download CarmanScan Auto-i application from the official CarmanScan web site.
Current version of DAP4CS supports version 2120 of Auto-i.
If you have problems downloading Auto-i application from the official website, then
you can find it here.