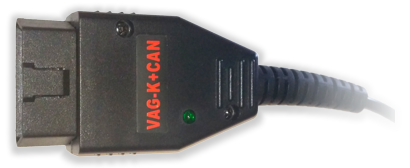 Current version of DAP4CS supports two type of adapters: K+CAN Commander 1.4 and ELM327. You can use any of supported adapters, but K+CAN Commander 1.4 is more versatile comparing to ELM327 for diagnostic via K-line.
K+CAN Commander 1.4 is based on FT232 chip and it allows DAP4CS to communicate directly with Control Unit using any initialization sequence and communication speed required by protocol. Also communication data rate will be higher when using K+CAN Commander 1.4. Other K-line adapters based on FT232 without CAN support may be used to with DAP4CS.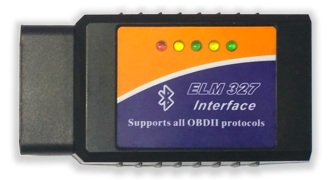 ELM327 diagnostic adapters allow to use only predefined protocols and communication speeds. Also ELM327 does not fully support KWP 2000 protocol at data link layer, specifically KWP 2000 headers with no address information (one byte header). Some Chinese ELM327 adapters have bugs in firmware. They use wrong KWP 2000 Fast Initialization timings (TiniL), which are not in range described in ISO 14230-2 specification, therefore communication with some Control Units may not be possible. But most of Chinese ELM327 v1.5 adapters based on PIC18F2580 or PIC18F25K80 are free of this bug. So you should use "right" ELM327. Read internet forums and recommendations how to choose it.
Despite of its cons ELM327 may be used to diagnose most of the modern cars, because in diagnostic purposes car manufacturers usually utilize ISO 15765, ISO 14230, ISO 9141 and SAE J1850 protocols, which ELM327 supports.
If you choose between wireless versions of ELM327, Bluetooth version is recommended, because it has lower input/output latencies comparing to Wi-Fi version.
All these adapters you may buy on Aliexpress.
To communicate with some control units via K-line, you may need a K-line switch.