To use DAP4CS you must acquire a license key. To request license key open 'User' tab in the options dialog box, input your nickname, email address and press the 'Request' button, then the web-frame will appear, follow instructions in the frame. You can find URL of the license key request in the text file in the 'Keys' directory. If your computer is not connected to the Internet, open this URL in the computer that has Internet access and follow instructions.
You may request a free license key for Demo mode, which allow you to test DAP4CS. Demo mode is intended for checking adapter and connection with control units. In Demo mode communication with the Control Unit will be terminated past a few seconds after it has been established, so you will not be able to use DAP4CS in Demo mode for the full featured diagnostics.
The license key is valid only for the computer on which the request has been made.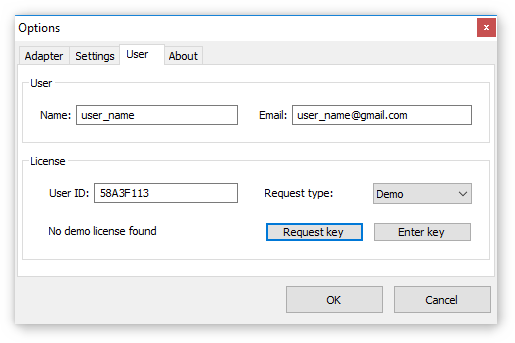 The full version will be available for a reward, but at current time it's available for beta testers.
To participate in DAP4CS beta testing, users with experience in auto-diagnostics and access to at least a small park of cars are welcomed.
Also, welcomed users who can test DAP4CS against specific diagnostic protocols, for which there are few or no statistics. These are protocols: VW TP 1.6/2.0, KWP 1281, ISO 15765 with 29bit addresses, SAE J1850 PWM/VPW, SAE J1939.
DAP4CS also supports outdated OEM protocols, so users with special K-line adapters based on FT232 chip are welcomed for diagnostics using the following protocols: Nissan Consult-1, Subaru SSM-1, Mitsubishi MMC SCI.